NBA recap – season-to-date surprises. The National Basketball Association went with no games last night to shift focus to Election Night in the USA. With the night off, I will take this time to highlight some of my surprises so far in the young season.
The NBA, the most progressive of the four major sports, wanted to dedicate Tuesday, November 8th to the polls, and encourage its fans to get out and vote, and hopefully make a difference in their community and country. Bravo, NBA.
There are several surprises early on in the season, lest look at a few of them so far.
Utah Jazz: The Jazz lost Donovan Mitchell and Rudy Gobert and somehow got better. Lauri Markkanen and Jordan Clarkson picked up a lot of minutes that were left behind. Both guys are having career years. The new Head Coach, Will Hardy, has done an excellent job of sharing minutes amongst the other players, keeping guys fresh, and obviously, winning games. If you had the Jazz at 9-3 through almost three weeks, you are lying.
Dejounte Murray: Trae Young is still the guy, but Murray is playing out of his mind. Murray was the one who led the Hawks in the Milwaukee Bucks' first defeat of the season while Young sat out. Murray's talent has always been apparent, but lesser known, playing for the small-market Spurs. Dejounte is one of the best-kept secrets in the league, and the best all-around player on the team. Murray is averaging career highs in points, steals and rebounds.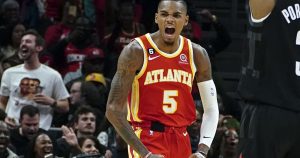 Miami Heat: The Heat are lost. Head Coach, Eric Spoelstra has been around for a long time. He knows how to troubleshoot a rough patch. It will not be easy, because the schedule only gets tougher. After a back-to-back with the Charlotte Hornets, The Heat face the Celtics twice, and then the Raptors, Suns, Cavaliers, and Grizzlies over the next ten games. Miami could use their sixth man, Tyler Herro back. He is day-to-day and should be back in the lineup within the week. The Heat are currently 12th in the East with a 4-7 record.
Russell Westbrook: Not surprisingly, West started off rough. He did not seem to think so, as he was very complimentary of himself during his early struggles. That confidence is what has pushed him to be so successful off the bench. Russell may be a sixth man of the year candidate at the season's end. Since coming off the bench, Russ is shooting 57% from the field, 93% from the free-throw line, to average 20 points a game. He has also added 4 rebounds and 8 assists per game. This vintage Westbrook.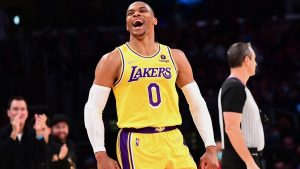 Cleveland Cavaliers: The addition of Donovan Mitchell Allowed the Cavs the luxury to rest point guard, Darius Garland with his eye injury. Early on, Mitchell is on a shortlist of MVP candidates. His individual numbers are insane, averaging 31 per game, and adding 6 assists per contest, while leading Cleveland to an 8-2 record. It is not all Mitchell. The Cavs have a whopping six players averaging mor than 12 points per game. This is truly a team. A very good team.
Keldon Johnson: My favorite player of whom you have never heard. With a lot of draft picks on the way, and a young Spurs team, San Antonio was comfortable letting Dejounte Murray walk. They still have players that can control possession and individually impact the game in a positive way, Devin Vassell and Keldon Johnson. Johnson is the No. 1 and now that Murray is gone, the runway is clear for him to fly. So far, Johnson is averaging 24 points per game on 47% field goal shooting. More impressive, Keldon is hitting on 43% of his three-point attempts. He adds 4 assists and 5 rebounds per game. A complete player, Johnson keeps getting better. A huge season on the way for young KJ.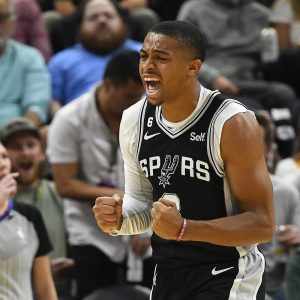 Golden State Warriors: The Warriors are having a tough time stopping anyone. on Monday, they barely escaped the Sacramento Kings, on a bad no-call, which should have sent the Kings' Kevin Huerter to the line for three free shots, after Klay Thompson mugged him. The Warriors are looking slow and vulnerable. The lack of attention and focus on the defensive end is making it tough for the Warriors to win games. This team is too talented to not make the playoffs. They have to figure this out quickly or the defending champions may be on the outside looking in. They do not look remotely close to playoff ready right now.
Kawhi Leonard: I should not be shocked. I really should not, but when, if ever do we get a full season of Kawhi? Or even just a half-season? It feels like there is something else going on here about Leonard which we just do not know. I feel horrible for Paul George. A guy who has fought through many injuries, including season-enders, and always comes back to play, and play hard. John Wall, a former perennial All-star wanted the Clippers, because he felt a real chance at winning a championship. A healthy Kawhi makes the Los Angeles Clippers the best team in the west, but when, if ever do we get him on the floor?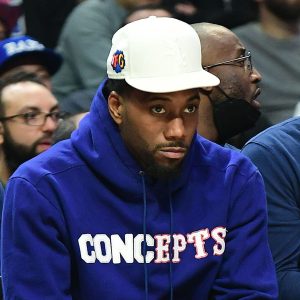 Brooklyn Nets: I for one, thought this was the year Kevin Durant and Kyrie Irving would finally rock a full season together, and thus compete with Boston, Milwaukee, Miami, and Philadelphia for the Eastern Conference crown. Ben Simmons sitting is not a huge surprise, and I suppose Kyrie sitting is not either, but the reason Kyrie is sitting, is. The Nets are a tad aggressive with the required homework and actions of Irving to rejoin the team. As a basketball fan, I hope this is resolved soon. I love to watch Kyrie play basketball.